The Chief Public Health Officer's Report on the State of Public Health in Canada, 2015: Alcohol Consumption in Canada
Organization: Public Health Agency of Canada
Date published: 2016-02-03
A message from Canada's Chief Public Health Officer
Alcohol is a socially accepted part of everyday life for most Canadians. Almost 80 percent of us drink.
Many Canadians associate drinking with pleasurable social events such as music festivals, watching sports, parties, and relaxing. Celebrations and milestones like weddings, anniversaries, and awards are often "toasted" with alcohol.
Our society condones, supports, and in some cases promotes drinking such as through "drink of the day" specials, sale prices on certain brands, and associating alcohol with fun and sophistication.
Although handled more like a food in Canada, alcohol is a mind-altering drug and there are health risks associated with drinking. Our low-risk drinking guidelines do not mean that alcohol is harmless.
At least three million drinking Canadians risk acute illness, such as injury and at least four and half million risk chronic conditions such as liver disease and cancer.
Our children grow up seeing alcohol in many aspects of their environment and around 3,000 are born with fetal alcohol spectrum disorder each year.
I hope this report will raise awareness and stimulate frank conversations between Canadians, especially with their loved ones, and helps us reflect on how our society deals with this mind-altering drug.
Dr. Gregory Taylor
Chief Public Health Officer of Canada
Acknowledgements:
Many individuals and organizations have contributed to the development of The Chief Public Health Officer's Report on the State of Public Health in Canada, 2015: Alcohol Consumption in Canada.
I would like to express my appreciation to the consultants who provided invaluable expert advice:
David Mowat, MBChB, MPH, FRCPC, FFPH, former Medical Officer of Health, Region of Peel, Ontario;
Daryl Pullman, PhD, Professor of Medical Ethics, Division of Community Health and Humanities, Memorial University;
Don Mahleka, member of the Mental Health Commission's Youth Advisory Council and the Children and Youth in Challenging Context's youth advisory committee;
Jeff Reading, MSc, PhD, FCAHS, Professor, School of Public Health and Social Policy, Faculty of Human and Social Development, University of Victoria;
John Frank, MD, Director, Scottish Collaboration for Public Health Research and Policy; Chair, Public Health Research and Policy, University of Edinburgh; Professor Emeritus, Dalla Lana School of Public Health, University of Toronto;
Michael Routledge, BSc (Med), MD, CCFP, MSc , FRCPC, Chief Provincial Public Health Officer, Manitoba;
Peter Glynn, PhD, Health Systems Consultant; and,
Tim Stockwell, PhD, Director of the Centre for Addictions Research of British Columbia; Professor, Psychology, University of Victoria.
In addition, I would also like to recognize contributions made by partners and stakeholders who were consulted on the report under tight timelines, including Health Canada, the Council of Chief Medical Officers of Health, the Canadian Centre on Substance Abuse, the Centre for Addiction and Mental Health, the Centre for Addictions Research of British Columbia, Mothers Against Drunk Driving, the Canadian Public Health Association.
I would also like to sincerely thank the many individuals and groups within the Public Health Agency of Canada for all of their efforts and dedication, notably my report unit team, my support staff and members of the 2015 Core Advisory Group.
KEY MESSAGES:
This report aims to increase Canadians' awareness about the health impacts of alcohol consumption.
Humans have a long history with mind altering drugs, such as alcohol. Consuming alcohol is ingrained in Canadian culture. In 2013, an estimated 22 million Canadians, almost 80 percent of the population, drank alcohol in the previous year. At least 3.1 million Canadians drank enough to be at risk for immediate injury and harm with at least 4.4 million at risk for chronic health effects, such as liver cirrhosis and various forms of cancer.

Drinking patterns matter - how much and how often a person drinks alcohol are key factors that increase or decrease health impacts. Canada's Low-Risk Alcohol Drinking Guidelines provide guidance on risky drinking patterns, including avoidance of alcohol in pregnancy. Low risk does not equal no risk.

Social situations, family contexts and messaging influence drinking patterns. Exposure to alcohol through families and friends as well as through entertainment and advertising can strongly influence people's motives for drinking alcohol and their drinking patterns. For many Canadians, drinking is associated with many positive situations including important celebrations, forming friendships, positive mood and relaxation. However, risky drinking can increase the risk for family conflict, violence, crime including rape, and traffic accidents through impaired driving.

Our understanding of the dose-dependent health effects of alcohol continues to evolve. Recent research questions the health benefits of low to moderate alcohol consumption. Studies suggest that women are at increased risk for breast cancer even at one drink per day. The International Agency for Research on Cancer's World Cancer Report 2014 and the Canadian Cancer Society state that there is no "safe limit" of alcohol consumption when it comes to cancer prevention.

Youth are particularly at risk for negative impacts from drinking alcohol. Teenage brains are more vulnerable to the effects of alcohol. Families, friends, and all Canadians who care for or work with youth can play a positive role if they recognize their influence on youth's drinking patterns and support their healthy physical, mental and emotional development.

How we deal with alcohol in part defines our society. Approaches such as a regulated alcohol industry, policies on pricing and taxation, controls on sales and availability, and minimum age laws help reduce the impact on Canadians, especially youth . These approaches vary across the country and may not be realizing their full potential. No single approach can address the large variations in the needs and drinking patterns of Canadians.

The story of alcohol is complicated. Despite the large of amount of information available, there are significant gaps in our understanding of drinking patterns, risk factors, alcohol's impacts on health and the effectiveness of approaches to reduce these impacts.
What this report is about
This report explores how consuming alcohol, a common mind-altering drug, is an important public health issue for Canadians. In 2013, an estimated 22 million Canadians, almost 80% of the population, reported that they drank alcohol in the previous year.Footnote 1Footnote 2
Mind-altering drugs or substances contain psychoactive chemicals that act on the brain to change thinking, mood, consciousness, and behaviour and whose use can sometimes lead to dependence and abuse. Footnote 3
Under the Food and Drugs Act , alcohol is identified as a food. However, alcohol contains psychoactive chemicals making it a psychoactive drug or substance in terms of impacts on health. Footnote 3
Many Canadians who consume alcohol do so responsibly. However, alcohol consumption is linked to over 200 different diseases, conditions and types of injuries. Footnote 4 Of those who choose to drink, a significant number of Canadians (at least 3.1 million) drink enough to risk immediate injury and harm, including alcohol poisoning in some cases. At least 4.4 million are at risk for longer term negative health effects. Footnote 1
Canadians are subjected to mixed messages about alcohol's benefits and harms. Alcohol consumption is a complex public health issue that can have a wide range of health impacts. Various factors contribute to the effects of alcohol, including how much people drink, how often they drink, what they are doing while they are drinking, as well as their underlying state of health.
Is alcohol consumption the same as alcohol abuse? No. Paying attention to drinking patterns, knowing what factors contribute to health risks, and recognizing warning signs can help reduce or prevent health risks, risky drinking,alcohol abuse, alcohol dependence, alcohol use disorders and their associated harms.
Why focus on alcohol?
Canadians have a long history with alcohol that has shaped drinking patterns over time. Alcohol is widely available and promoted in Canada. Footnote 5 Canadians are exposed to messages and images about alcohol through advertising and marketing of alcoholic beverages and in TV shows, movies and literature, as well as through alcohol retail outlets within their neighbourhood. With the majority of Canadians choosing to drink, people are exposed to alcohol through their friends and family, in their neighbourhoods, at social gatherings and through social media. Generally speaking, increased exposure and access to alcohol are linked to increased drinking. Footnote 10-36
This report focuses on alcohol consumption at the population level in Canada, in order to raise awareness of the evidence regarding health risks. Canadians take health risks every day. Behaviours like how physically active people are, how many servings of fruit and vegetables or how much salt and fat is in the food people eat and how much alcohol people consume can all carry some degree of health risk. Many people who drink underestimate how much they drink. Footnote 37-39 Knowing the shorter- and longer-term risks to health may help some Canadians pay closer attention to their drinking and prevent negative impacts on their health and the health of others.
What are Canadians using?
Alcohol, tobacco, caffeine, marijuana, cocaine, heroin, hallucinogens, and various prescription drugs are all examples of psychoactive drugs. In Canada, alcohol is the most widely consumed psychoactive drug (see Figure 1)Footnote 1 except for caffeine. After water, coffee (which contains caffeine) is the second most consumed beverage in Canada.Footnote 40
Figure 1: What psychoactive drugs are Canadians using?
Estimated percentage

| | | | | |
| --- | --- | --- | --- | --- |
| | Alcohol | Tobacco | Marijuana | Other illicit drugs |
| Total | 75.9 | 14.6 | 10.6 | 1.6 |
| Men | 80.6 | 16 | 13.9 | 2.4 |
| Women | 71.2 | 13.3 | 7.4 | 0.8 |
Estimated percentage of Canadians 15 years of age and older in 2013 who consumed alcohol, marijuana and other illicit drugs in the past year and/or regularly smoke tobacco. Footnote 1
How can alcohol be harmful? Drinking alcohol was the third highest risk factor for global disease burden in 2010, moving up from being ranked sixth in 1990. It was also the top risk factor for poor health in people ages 15 to 49 years.Footnote 41
A snapshot of alcohol's impacts on Canadians:
Risky drinking can result in a wide range of negative impacts on society, including increased rates of premature death, disability and disease, impaired driving, reduced productivity, a burdened health care system, and high financial burden to both the individual and society. e.g.,Footnote 6Footnote 8Footnote 9Footnote 42-48
Globally, alcohol was linked to over 3 million deaths per year in 2012, slightly more than lung cancer and HIV/AIDS combined. Footnote 48-50
At the individual level, alcohol affects a wide variety of biological systems in a dose-dependent manner, leading to impacts on health, well-being, and behaviour over both the short and long term (see Table 1).
For example, the International Agency for Research on Cancer (IARC) of the World Health Organization (WHO) has classified alcoholic beverages, ethanol in alcoholic beverages and acetaldehyde associated with the consumption of alcoholic beverages as carcinogenic to humans. This means that alcohol consumption is capable of increasing the incidence of cancer in a population. It can also reduce the length of time cancer is present but inactive in the body, increase cancer's severity, and increase the number of tumours or types of cancer present. Footnote 51
The IARC's World Cancer Report 2014 and the Canadian Cancer Society state that there is no "safe limit" of alcohol consumption when it comes to cancer prevention.

Table 1: An overview of the dose-dependent health and behavioural impacts of alcohol consumption
Direct effects
Risky drinking can cause:
Alcohol use disorders
Amnesia (e.g., Korsakoff's syndrome)
Memory loss and blackouts
Delirium due to a severe form of withdrawal
Fetal Alcohol Spectrum Disorder (FASD)
Disease and Conditions
Drinking alcohol is linked to:
Other drug use disorders
Brain damage
Liver disease
Various cancers
Pancreatitis
Mental health disorders
Suicide
Stomach ulcers
Hypertension
Stroke
Cardiovascular disease
Diabetes
Sexually transmitted infections
Functions and Systems
Drinking alcohol can affect the following systems:
Immune
Stress
Memory, cognition
Digestion
Heart, blood, lungs
Brain
Hormones
Muscles
Fertility
Skin
Development
Behaviour
Risky drinking can lead to:
Risky behaviour
Impulsivity
Violence
Injury
Poor memory
Impaired decision-making
Lack of coordination
Poor academic performance
Impaired social and occupational functioning
References: Footnote 4, Footnote 42, Footnote 49, Footnote 51-127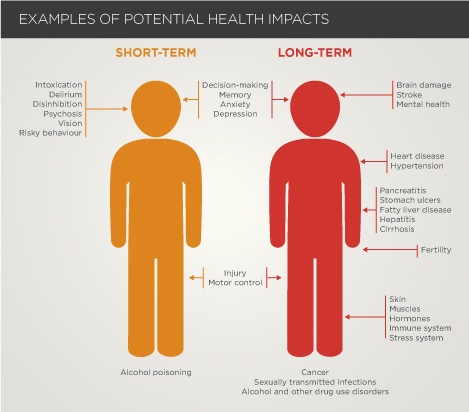 Many factors influence how alcohol affects a person's health, including how much and how often a person drinks, that person's specific risk factors and what they are doing while they are drinking. Although controversial, studies have shown that alcohol may have beneficial effects. However, benefits are dose-dependent and apply to a select set of diseases, conditions, situations, and segment of the population.Footnote 53Footnote 54Footnote 56Footnote 57Footnote 59Footnote 61Footnote 63-65Footnote 69Footnote 73Footnote 76-80Footnote 84Footnote 87Footnote 89Footnote 90-92 Given that many people who drink underestimate how much they drink, Footnote 38Footnote 39Footnote 128-130, their perceived potential for harm or benefit may also be inaccurate.
What this report covers:
This report focuses on the health impacts of alcohol consumption, including how they develop and are modified by drinking patterns and risk factors. Included in this report are the following sections:
Impacts on Canadians explores how much Canadians are drinking and what are the resulting major impacts on health and society, including potential benefits.
Pathways to impacts: From brain to behaviour describes low-risk drinking patterns and how drinking alcohol can lead to impacts on the brain and through behaviour.
Influencing factors describes how different risk and protective factors can influence the risks for impacts from alcohol consumption.
Population health perspective provides three examples of specific populations in Canada: youth, women, and Aboriginal populations.
Reducing health impacts provides highlights on how public health can address the issue of alcohol consumption in Canada, with a focus on primary prevention.
Impacts on Canadians
Identifying how much and how often people drink is a first step in understanding consequences, benefits, and harms of alcohol consumption on a particular population. Currently, data on alcohol consumption and related costs and harms, particularly for trends, are limited in Canada. This makes it difficult to capture a true picture of the impact on Canadians.
Risky Drinking: The impacts of alcohol are dose-dependent. In 2011, the Canadian Centre on Substance Abuse released Canada's Low-Risk Alcohol Drinking Guidelines . These guidelines identify how much is too much: Footnote 42
Drinking more than 15 standard drinks a week for men or 10 a week for women with more than 3 drinks a day for men or 2 for women on most days increases the risk for long-term negative impacts on health.
Drinking more than 4 standard drinks for men or 3 for women in an occasion increases the risks for short-term injury and harm.
There are no health benefits to alcohol consumption for youth. The potential health benefits from alcohol do not begin until middle age.
The evidence used to develop these guidelines can be found at this link.
Pathways to impacts: From brain to behaviour
Alcohol can have a variety of direct immediate or short-term effects on biology that can result in impacts on health, well-being, and behaviour. In order to understand how alcohol creates social impacts, it is important to understand drinking patterns and alcohol's pathway from the brain to behaviour.
Importance of drinking patterns
How much and how often an individual drinks are key factors that increase or decrease the risk for impacts from alcohol. Abstinence prevents all direct alcohol-related impacts on an individual. Some negative health impacts are temporary and can be reversed or reduced once a person stops drinking or drinks within recommended guidelines. e.g.,Footnote 272Footnote 273
The impacts of drinking patterns are complicated. Alcohol's impacts are dose-dependent (e.g., volume consumed), but also depend on type of drink and the pattern of consumption over time (e.g., drinking patterns). To that end, experts have developed low-risk drinking guidelines to help Canadians understand how much is too much. Footnote 42
Canada's Low-Risk Alcohol Drinking Guidelines recommend that:
To reduce risks of short-term injury and harm:
Women should have no more than 3 standard drinks on any single occasion.
Men should have no more than 4 standard drinks on any single occasion.
To reduce long-term health risks:
Women should have no more than 10 standard drinks a week, with no more than 2 drinks a day on most days.
Men should have no more than 15 standard drinks a week, with no more than 3 drinks a day on most days.
Due to the health risks involved, abstinence is recommended:
During pregnancy, when planning to become pregnant, and before breastfeeding;
Before and while driving or using machinery and tools;
When complications with medications or other drugs are possible;
When living with mental or physical health problems; and
Before and during any activities that need judgment, physical skill, balance and endurance.
Youth should delay drinking alcohol as long as possible, at least until reaching the legal drinking age.
Alcohol use disorders: Alcohol use disorders are associated with heavy drinking, but are not diagnosed by use alone. The Diagnostic and Statistical Manual of Mental Disorders, 5thedition (DSM-V) is a diagnostic tool used by health care professionals to diagnose and determine treatment for mental health disorders. Footnote 274 Previous editions defined problems with psychoactive substances through two distinct categories of abuse (based on risky use and the resulting social and occupational impairments) and dependence (based on resulting health problems, physiological dependence, cravings, lack of control over use, and time spent seeking, using or recovering from use). Footnote 275 In 2012, approximately 5 million Canadians (or 18 % of the population) aged 15 years and older met the criteria for alcohol abuse or dependence at some point in their lifetime. Footnote 276
Categories of diagnostic criteria: Footnote 274
Risky use
Lack of control over use
Social and occupational impairment
Needing more drug over time to have an effect (i.e. tolerance) and/or experiencing withdrawal symptoms
The DSM-V defines substance use disorders along a continuum of severity rather than as distinct conditions. For diagnosis, there are a variety of criteria that must be met, with severity being gauged by how many criteria a person fits. Substances use disorders are defined for nine groups of psychoactive substances: alcohol; cannabis; hallucinogens; inhalants; opioids; sedatives, hypnotics and anxiolytics; stimulants; tobacco; and, other substances. Footnote 274
From brain to behaviour
As a psychoactive drug, alcohol acts on the brain, leading to changes in behaviour.
Alcohol's effects are dose-dependent and differ from individual to individual. Generally, alcohol initially acts as a stimulant then a depressant. Footnote 277 Alcohol interacts with two widespread chemicals in the brain: gamma-aminobutyric acid (GABA) and glutamate. Alcohol stimulates GABA receptors (which are inhibitory) and inhibits glutamate receptors (which are excitatory), leading them to work together to suppress activity in certain areas of the brain. Footnote 45Footnote 100
Drinking alcohol acts on the brain to create a pleasant feeling and has a reinforcing effect on the brain's reward (dopamine) system with the help of other brain chemicals (e.g., opioids, stress hormones). Alcohol's effect on the reward system is thought to be the mechanism by which addiction to alcohol develops. Footnote 45Footnote 95Footnote 124Footnote 262Footnote 278-280
Alcohol easily reaches the brain and at a certain amount, can adversely affect processes that are essential for healthy brain growth and functioning. At higher amounts, it can also damage a wide range of areas in the brain that are important for learning, memory, decision making, motor control, and emotion. Footnote 100Footnote 208Footnote 281Footnote 282
Stress and alcohol
A healthy response to stress is essential for good health. Footnote 283 Drinking alcohol can negatively affect how the body reacts to stress, Footnote 284-291, which in turn, may underlie some of alcohol's effects on health and well-being. Footnote 290
From behaviour to social impacts
Over the short term, alcohol consumption can decrease inhibitions and increase risky behaviour. e.g.,Footnote 93Footnote 291-293 This can lead to a variety of potential impacts (see Figure 5) including risky decisions such as deciding to drive after drinking or having unprotected sex. Footnote 93Footnote 294 Drinking patterns are also linked to unwanted sex and rape among students.Footnote 296-298 Alcohol can be considered a date rape drug. Footnote 296 Drinking alcohol can also be used to help ease sexual interactions in consensual situations.Footnote 299
Alcohol dependence can also increase emotional reactivity and lead to an inability to interpret emotions, language and humour. Footnote 300-302 In some cases, heavy drinking is associated with increased social rejection and smaller, less diverse social networks. Footnote 303Footnote 304 Families can also be affected by alcohol. For example, how much a person drinks can influence how much their partner drinks. Footnote 305 Marital dissatisfaction and divorce can result when one partner drinks heavily. Footnote 305-307 An increased risk for partner violence, negative interactions, aggression, and child abuse and neglect is also linked to heavy use of alcohol. Footnote 248Footnote 307-313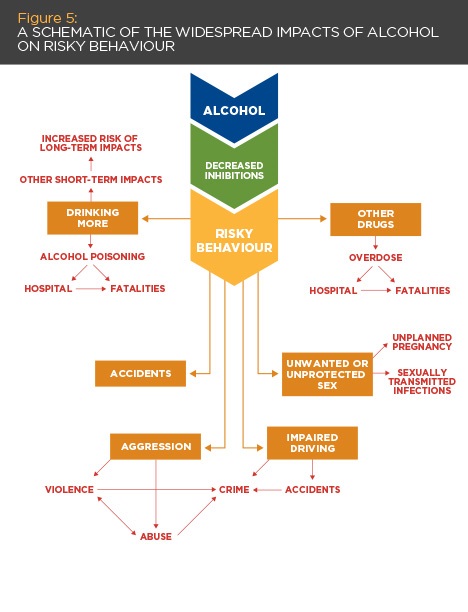 References: Footnote 4 Footnote 6 Footnote 9 Footnote 42-44, Footnote 86 Footnote 93 Footnote 125 Footnote 146 Footnote 208-210, Footnote 214 Footnote 294 Footnote 309 Footnote 311 Footnote 312 Footnote 315-327.
Summary of alcohol's impacts on behaviour
Alcohol-induced disinhibition can facilitate risky behaviour which can lead to a variety of negative outcomes such as impaired driving, accidents, rape, sexually transmitted infections, aggression, and violence.
Alcohol's effect on cognition can affect a person's ability to learn and work effectively, leading to poor academic performance and impaired occupational functioning. In turn, this can lead to dropping out of school or unemployment.
Alcohol can have a negative impact on relationships with family and friends. Parents, other adults and older siblings can act as role models for children and youth, passing on risky drinking patterns to the next generation.
Impaired motor skills from drinking alcohol can lead to an inability to drive safely, leading to a higher risk for accidents that can affect the drinker and other Canadians.
Influencing factors
A variety of factors play an important role in whether or not alcohol impacts an individual or population. Some factors are risk factors and some are protective; however, many are linked to the social determinants of health. The social determinants of health play a role in health inequities and help define an individual's or a population's social, economic, and physical environment, as well as an individual's characteristics and behaviours.Footnote 328Footnote 329
History
Humans have a long history and, arguably, fascination with mind-altering drugs, including alcohol. Footnote 266Footnote 330Footnote 331 Not long ago, alcohol was illegal in many jurisdictions and remains highly regulated in some areas of the world today. Footnote 48
Prohibition of alcohol in the early 1900s in North America arose out of concerns for its negative impacts. Based on data from the United States, prohibition of alcohol initially decreased drinking rates. These rates returned to pre-Prohibition levels in the decade following the end of Prohibition. Footnote 332
Like other psychoactive drugs, alcohol was explored for its medical qualities. More specifically, the idea that moderate drinking could have health benefits started in the 19thcentury. Footnote 333 Until recently; however, it was less clear what defined the difference between low- and high-risk drinking. Footnote 42
Social acceptability: When a drug is socially acceptable, people are more likely to use it and pressure others to use it too. Alcohol is an example of a drug that is socially acceptable in some areas of the world despite its risks for harm. Alcohol is most often consumed for enjoyment, to be social, and to celebrate despite awareness of the risks involved. Footnote 31Footnote 32Footnote 267 In some situations drinking alcohol is not acceptable, such as when it leads to violence, before and while driving, when underage or during pregnancy. Footnote 42
Stigma and discrimination: Despite being socially acceptable, the use of alcohol can also lead to stigma and discrimination, particularly for those who are being treated for alcohol use disorders. Footnote 304Footnote 334-337On the other hand, stigma is also attached to abstinence. Non-drinkers can be reluctant to disclose their non-drinking status because of this stigma and in order to be socially accepted. Footnote 336Footnote 338
Population health perspective
Based on existing information, alcohol consumption is discussed in three specific populations below - youth, women and Aboriginal populations:
Youth
Alcohol is a public health concern for youth because:
Data on youth and alcohol consumption in Canada: The age at which youth take their first drink in Canada has been increasing. Footnote 599 An estimated 60% of Canadians aged 15 to 19 years drank alcohol in 2013. An estimated 15% of these youth drank enough to exceed the adult low-risk drinking guidelines for acute effects, while almost 20% exceeded the adult guidelines for chronic impacts. Footnote 1
Many Canadians begin drinking before the age of 15. The phenomenon of students binge drinking or "getting drunk" is infrequent in lower grades and becomes much more common in higher grades (see Figure 7). Footnote 555Footnote 599 By grades 10 to 12, almost 60% of teenagers reported having had a drink in the previous year while about 46% reported having undertaken binge drinking in 2012-2013. This is a decrease from previous years. For example, over 70% of students in Grades 10 to 12 reported drinking in the past year with almost 60% binge drinking in 2008-2009. Footnote 599-601 In 2012-2013, about 50% of youth reported having had their first drink of alcohol between the ages of 12 and 14. Footnote 602
Rates of drinking at least once a week by students in Grades 6,8, and 10 have decreased, particularly for beer. However, rates of becoming intoxicated have been relatively stable since 1994. Footnote 555
In every grade, boys consistently drink more beer than do girls, while consumption of wine, liquor and coolers is more similar across sexes. Consumption of beer increases across grades, while the consumption of wine and liquor is more stable. Footnote 555
About 60% of students in Grades 6 to 10 think drinking "once in a while" carries little to no risk. Regular drinking is thought to be risky by around 80% of boys and 87% of girls in Grades 6 to 10.Footnote 602 Binge drinking (i.e., drinking 5 or more drinks in a single occasion for boys and 4 or more drinks for girls) in the previous year was linked to more emotional and behaviour problems, particularly in those who undertook binge drinking most often.Footnote 602
Women
Alcohol is a public health concern for women because:
Data on sex differences in alcohol consumption in Canada: In Canada, a higher percentage of men than women drink alcohol both in general and in terms of risky drinking (see Figure 8). Footnote 1 However, risky drinking by women in Canada has increased, Footnote 1Footnote 131Footnote 132Footnote 342, particularly in women above the age of 35. Footnote 1Footnote 132
Men tend to begin drinking and undertaking risky drinking at an earlier age than do women, Footnote 1Footnote 618, although women progress more quickly from abuse to physical dependence and to treatment for problem use than men. Footnote 619 Men also tend to drink more for the positive effects and social aspects of alcohol than women do. Footnote 620
Figure 8a: What percentage of Canadians undertook risky drinking in 2013?
Estimated percentage

| | | |
| --- | --- | --- |
| | men | women |
| Estimated percentage | 80.6 | 71.2 |
Estimated percentage of Canadians 15 years of age and older who consumed alcohol in the week prior to a 2013 survey in amounts that exceed the low-risk drinking guidelines. Footnote 1
Figure 8b: What percentage of Canadians drank alcohol in 2013?
Estimated percentage

| | | |
| --- | --- | --- |
| | men | women |
| risk for short-term impacts | 14.6 | 8 |
| risk for long-term impacts | 18.8 | 12.7 |
Estimated percentage of Canadians 15 years of age and older who consumed alcohol in the year previous to a 2013 survey. Footnote 1
Aboriginal populations
Alcohol is a public health concern for some Aboriginal populations in Canada because:
· Many Aboriginal populations face major challenges that affect their health and well-being such as high unemployment, poverty, poor access to education, poor housing, being located far from health services, the displacement of Aboriginal language and culture, and social and economic marginalization.

Footnote

621-629
In order to address health issues, there is a need to understand how Aboriginal social determinants of health affect and contribute to a holistic view of health. For Aboriginal populations, historically and culturally specific factors play a particularly important role.

Footnote

621

Footnote

622

Footnote

625
Key determinants of health for Aboriginal populations: Footnote 621-623Footnote 625Footnote 627Footnote 630
Community readiness
Economic development
Employment
Environmental stewardship
Gender
Historical conditions and colonialism
Housing
Land and resources
Language, heritage, and strong cultural identity
Legal and political equity
Lifelong learning
Living on- and off-reserve
Racism and discrimination
Self-determination and non-dominance
Social services and supports
Living in urban and rural areas
Data on Aboriginal populations and alcohol consumption in Canada: Findings from the First Nations Regional Health Survey (2008-10) indicate that the rate of reported alcohol consumption for First Nations living on reserve is lower compared to the general Canadian population. However, the rate of reported heavy drinking is higher than the Canadian rate. Approximately 35% of First Nations adults living in First Nations communities did not drink in the past year, but of those who did drink, more than 60% drank heavily. First Nations youth living in First Nations communities are less likely to drink, with approximately 60% saying they did not drink in the past year. For those youth who did drink, approximately 50% drank heavily. Footnote 631 In addition, use and abuse of alcohol and drugs was ranked by First Nations on-reserve as the top challenge for community wellness. Footnote 631
According to the 2012 Aboriginal Peoples Survey, 33% of Inuit 15 years of age and older did not drink in the previous year, although 26% drank heavily.Footnote 632 According to the 2007-2010 Canadian Community Health Survey, 27% of Métis aged 12 years and older drank heavily in the previous year. Footnote 633
Reducing health impacts
Drinking alcohol is ingrained in Canadian culture. Because there are multiple levels and types of influence on drinking patterns (see Figure 9), many actors play a role in promoting responsible drinking and healthy behaviours. Many primary prevention strategies aim to reduce risky drinking and potential negative impacts of alcohol consumption; however, none of these are universally effective. The amount of variability across individuals, communities, and societies means that there is no single way to reduce impacts of alcohol use on individuals and populations. Footnote 5Footnote 342
Types and levels of influence on alcohol consumption
Individual
Reaction to alcohol:
Stimulating
Metabolism
Genetics
Expectations
Life transitions:
Going to school
Finding or losing a job
Getting married
Getting divorced
Becoming a parent
Retiring
Stress:
Coping
Makes alcohol more rewarding
Personality:
Impulsive
Sensation seeking
Family and Friends
Family:
Role models
Parenting
Abuse, stress, family violence
Beliefs and attitudes toward alcohol
Letting children try alcohol
Friends:
Drinking patterns
Peer pressure
Behaviour
Social support
Community and Society
Availability:
Cost
Ease of access
Retail outlets
Social acceptability:
Social expectations
Acceptable in certain situations (e.g., parties, celebrations, university/college)
Not acceptable in other situations (e.g., pregnancy, before/while driving, when underage, when violence occurs)
Stigma for those who do not drink
Exposure:
Widely promoted
On tv, on the radio, in movies, in literature
On social media, websites
Addressing individual factors
Not all factors that influence drinking can be addressed at the individual level. Individuals can reduce their drinking by recognizing factors that influence them to drink and that increase their risk for harm.
Reducing consumption: The amount of alcohol consumed plays a large role in the risk for both short- and long-term impacts. Footnote 42 Once an individual determines how much he or she drinks, Canada's Low-Risk Alcohol Drinking Guidelines can help determine whether or not the amount consumed is putting the individual and his or her family and friends at risk for harm. Some countries, including the United Kingdom, are currently revising their low-risk guidelines. Footnote 634
Brief interventions for alcohol: Following a screening process, brief interventions aim to target at-risk individuals through personalized feedback and counselling to set goals, find effective strategies to change behaviour, and provide information and guidance. Interventions can range from one short session to multiple sessions depending on the individual's needs. Individuals can be identified for and referred to treatment through this process. Footnote 635
Brief interventions have been noted as an important component for reducing the impacts of alcohol on individuals and act as a bridge between prevention and treatment.Footnote 635-637 A number of randomized trials in several countries have demonstrated that brief interventions are effective in many settings.Footnote 636 Brief interventions can reduce drinking, decrease mortality rates and improve health.Footnote 638-640
Although brief interventions are effective, social norms interventions (i.e., providing information on how much other people are drinking) are largely ineffective. Footnote 641Footnote 642
Recognizing and addressing risk: Addressing risk factors that influence drinking is an important step in reducing the potential for impacts. For example, why people drink is an important factor in determining what approach would work best for an individual. Footnote 643 For those who use alcohol to cope with stress, healthy coping skills and lifestyles can help reduce drinking and related impacts. Footnote 644-646 Using protective behaviours such as eating before drinking, alternating non-alcoholic with alcohol drinks and pacing drinks, can decrease the negative impacts from alcohol. Footnote 647
Attitudes and beliefs are also important considerations. For example, skills that help youth learn how to say no to alcohol seem only to help youth who already disapprove of drinking. Footnote 648 Evidence also suggests that changing parental attitudes on underage drinking by making them stricter can reduce heavy drinking in adolescents. Footnote 649-651 Changing parental behaviour seems to be a necessary component for reducing youth drinking over the long term, particularly for high risk youth. Footnote 652-655
Other risk factors are more difficult to address. For example, interventions that target personality traits have mixed effects with some showing promise and some being largely ineffective. Footnote 656-658
Health professionals can also influence people to recognize their risk for harm from alcohol. For example, educating women of child-bearing age about potential risks from alcohol to their health and the health of their developing baby is important. Footnote 659
Addressing availability and exposure
Laws, regulations and policies aim to keep Canadians safe and help mitigate harm from alcohol by contributing to changing behaviour. They also contribute to variability in drinking patterns across different jurisdictions, including across provinces. Footnote 5 Many of these are related to controlling availability. For example:
Changing behaviour: Reducing risky drinking involves a change in behaviour. To change behaviour, it is important to understand:
what is risky drinking; and
how to reduce alcohol consumption.
The Canadian Centre on Substance Abuse and Educ'alcool have a variety of tools to help use Canada's Low-Risk Alcohol Drinking Guidelines as well as tips and resources to drink responsibly.
Strategies and tools have been developed to help people reduce their drinking. For example:
Safe alcohol, safe drinking: Liquor control boards and commissions and the alcohol industry, including producers, restaurants, bars, and night clubs, play an important role in reducing risks associated with drinking alcohol. The safety of alcohol is regulated by various pieces of legislation, including through the Food and Drugs Act. Footnote 697 In addition, the alcohol industry in Canada works in collaboration with government, non-governmental organizations and other groups to promote responsible drinking. For example:
Addressing social acceptability
Perhaps the most challenging aspect to tackle in terms of reducing the negative impacts of alcohol consumption is social acceptability. Addressing social acceptability must involve action at the individual, family, community, and societal levels.
Stigma: Addressing stigma for both people who do not drink and those who are in treatment is important. For information on addressing stigma, see the Mental Health Commission of Canada.
Strategies on Alcohol: Alcohol is a recognized public health issue both globally and within Canada.
The World Health Organization has developed the Global Strategy to Reduce the Harmful Use of Alcohol that outlines ten areas for national action: leadership, awareness and commitment; health services response; community action; drink-driving policies and countermeasures; availability of alcohol; marketing of alcoholic beverages; pricing policies; reducing the negative consequences of drinking and alcohol intoxication; reducing the public health impact of illicit alcohol and informally produced alcohol; and, monitoring and surveillance.
Developed in 2007 in collaboration with a variety of alcohol stakeholders, Reducing Alcohol-Related Harm in Canada: Toward a Culture of Moderation identified a range of recommendations to form the basis of a National Alcohol Strategy.
Canada's National Alcohol Strategy: Formed in 2008, the National Alcohol Strategy Advisory Committee (NASAC) leads the implementation, monitoring and evaluation of the National Alcohol Strategy. The committee is co-chaired by the Canadian Centre on Substance Abuse, Mothers Against Drunk Driving Canada, and the Nova Scotia Department of Health and Wellness and consists of experts from across Canada including federal and provincial government representatives, non-governmental organizations, public health including medical officers of health, First Nations, Inuit and Métis service providers, and the alcohol industry.
Some progress has been made on a number of the recommendations, including: the development of Canada's Low-Risk Alcohol Drinking Guidelines launched in 2011; staff and server training programs; policies and programs for deterring underage drinking; and, community alcohol awareness campaigns.
In addition to the progress made on the Strategy, the Public Health Agency of Canada and Health Canada have also made progress on addressing fetal alcohol spectrum disorder.
Awareness campaigns: Developing messages about alcohol that resonate is challenging, making it difficult to create effective awareness campaigns. Footnote 342 Interestingly, alcohol is one of the few health-related topics where mass media campaigns are rarely effective. Footnote 698 Awareness campaigns have had the most success for impaired driving, Footnote 698-701, suggesting that specific and tangible topics where messages and actions are clear may benefit most from awareness campaigns.
Awareness campaigns are important for increasing knowledge and changing attitudes, but they do not always change drinking behaviour or the intention to drink.Footnote 342Footnote 699 There is a lack of awareness among Canadians about the full impact of alcohol on health. For example, in 2008, almost 70% of Canadians were not aware that alcohol was linked to cancer, while almost half were not aware of its links to heart disease and diabetes.Footnote 702
Public health awareness campaigns that either use scare tactics or promote responsible drinking can increase drinking while knowledge of drinking guidelines does not always reduce risky drinking. Footnote 703-705
Increasing knowledge and shifting attitudes is a key first step in the difficult process of changing societal views on drinking alcohol. This means awareness campaigns are an important component of a multi-faceted approach for reducing the negative impacts of alcohol consumption.
Closing comments
My role as Canada's Chief Public Health Officer is to engage Canadians and this report is meant to support a public health dialogue about drinking and its risks. The evidence gathered in this report provides an overview of public health impacts within our Canadian culture that normalises drinking. Information is organized in a way that recognizes that people may choose to read only certain sections as it is web-based.
As noted by the Canadian Public Health Association in their 2011 position paper on alcohol , tackling the problematic use of alcohol requires a combination of factors, including leadership and a broad base of support at all levels.
Since our National Alcohol Strategy was developed in 2007, there is emerging evidence on increased risks of cancers at low levels of drinking and a growing skepticism on alcohol's benefits. Our knowledge and understanding of alcohol consumption, drinking patterns, the effectiveness of current approaches, and the health impacts of alcohol in Canada is inadequate.
I suggest that Canadians and our institutions take a closer look at our current approach and reflect if we are doing enough to reduce the harms associated with drinking alcohol.
References
Data and information for this report were collected using a variety of methods, including key words searches through PubMed and Google Scholar as well as consultations with Canadian public health experts. The most up to date data and information available were used, with all research and data cited in this report being from peer-reviewed scientific articles and trusted data sources, such as Statistics Canada. Terminology on drinking, such as heavy drinking, alcohol abuse, alcohol dependence, and alcohol use disorders, were used as appropriate and matched the terminology being used in the research and data being cited. Care was taken to not use terms such as alcohol abuse, alcohol dependence, and alcohol use disorders unless relevant, as these conditions are clinically diagnosed.
Footnotes
What this report is about
Impacts on Canadians
Pathways to impacts: From brain to behaviour
Influencing factors
Population health perspective
Reducing health impacts